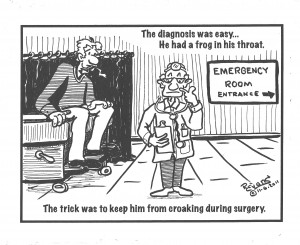 Flu season is upon us.  One of the most often mentioned side effects of the virus is a lingering "frog in my throat".  I got the cartoon idea when I was thinking about the implications of the saying… Is it a health issue or animal rights issue?
With that in mind, I decided to do the caption with both issues in mind.  If you're an animal rights person, you can rest assured that "no frogs were harmed in the procedure."
For the  patient's insurance agent, they will be relieved to know that every precaution is being taken to save the patient from croaking.
Therein lies the dilemma for the medical treatment… who is better suited to do the procedure, a medical doctor or a veterinarian? Maybe you need both…